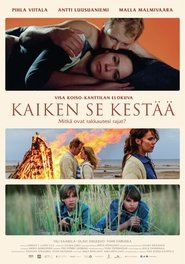 Kaiken se kestää (2017)
Two families and one small Finnish town by the sea. Marja (Pihla Viitala) and Tapio (Antti Luusuaniemi) are not only older but also vulnerable and misleading people. Tapio balances between his own desires and responsibilities. Marja, on the other hand, seeks to maintain an intact family and self-respect. Ullan (Malla Malmivaara) and Tapio's passionate relationship threaten to break up friendship and marriages. What are the limits of love?
Duration: 82 min
Quality: HD
Release: 2017
Tag: What are the limits of your love?
6.8